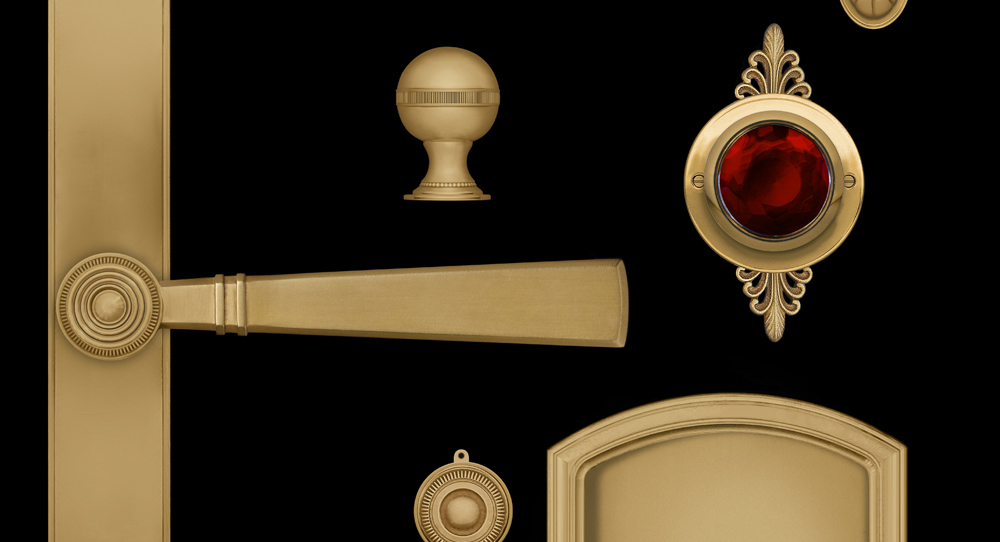 18th and 19th Century Designs
The level of detail and finish quality of these historical reproductions often surpasses those of the originals. Shown here is a suite of neoclassical handles and pulls with a variety of decorative details in matte gold. A rosette with anthemion motifs frames a ruby red rock crystal cabinet pull.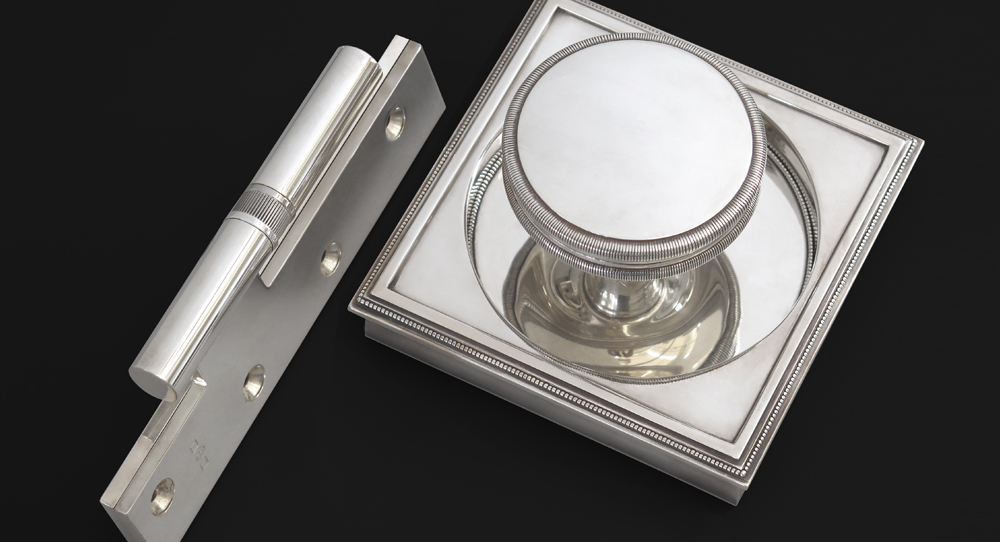 A variety of beaded and knurled details unite this ensemble of neoclassical hardware consisting of an "H" hinge and a Neo-Grec HT4963 barrel knob. The knob is dramatically set on an oversized, recessed decorative backplate.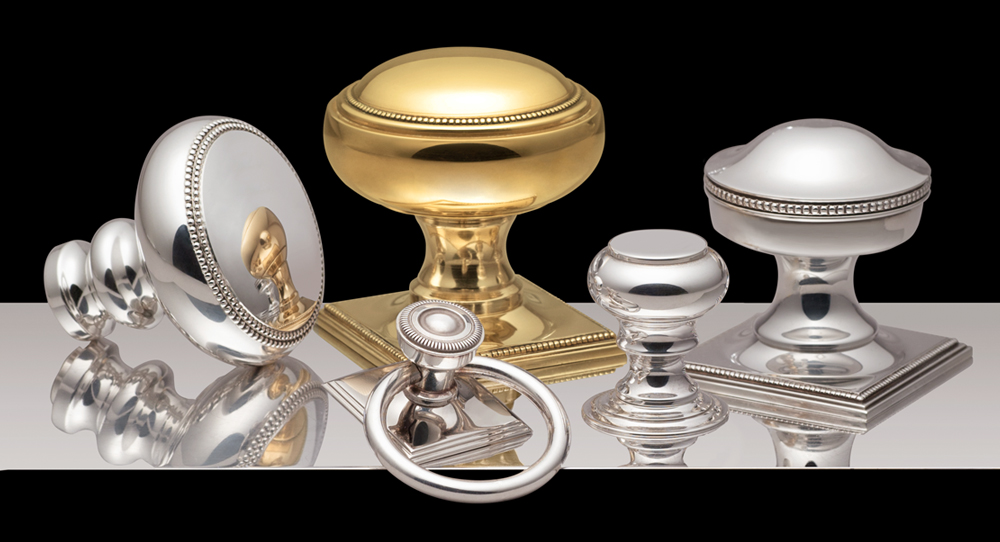 Classical Knob and Cabinet Pull Designs
Historical decorative details are faithfully rendered by H. Theophile's proprietary manufacturing techniques, which use a combination of hand and machining processes. Notable are the oversized HT4067 beaded knob (center) and the HT4095 knob (left) with two layers of concentric beading, an unusual 18th century detail.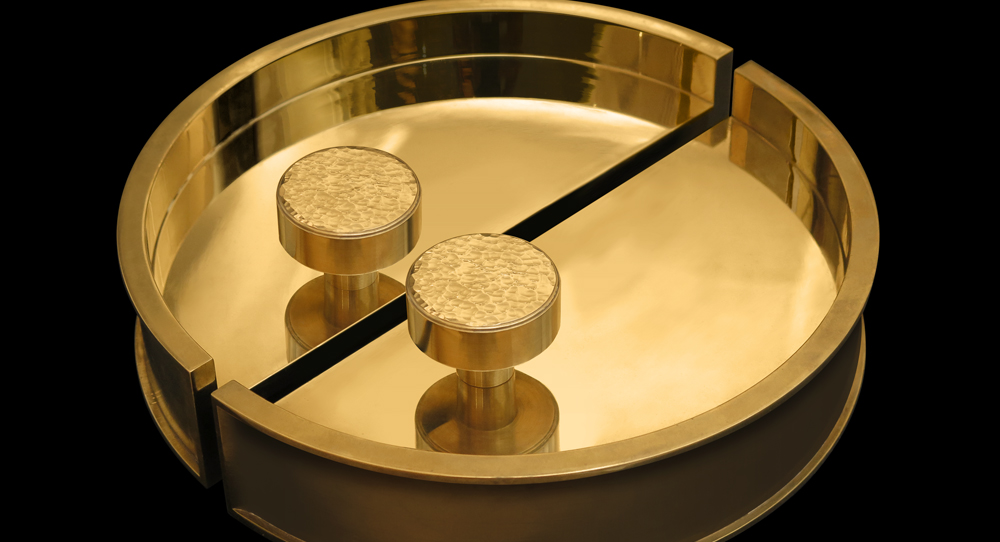 The HT3643 oversized, half-round plates are inspired by historical designs by Ruhlmann. They are machined from solid brass and install flush to the door face. These plates can be used as singles or pairs.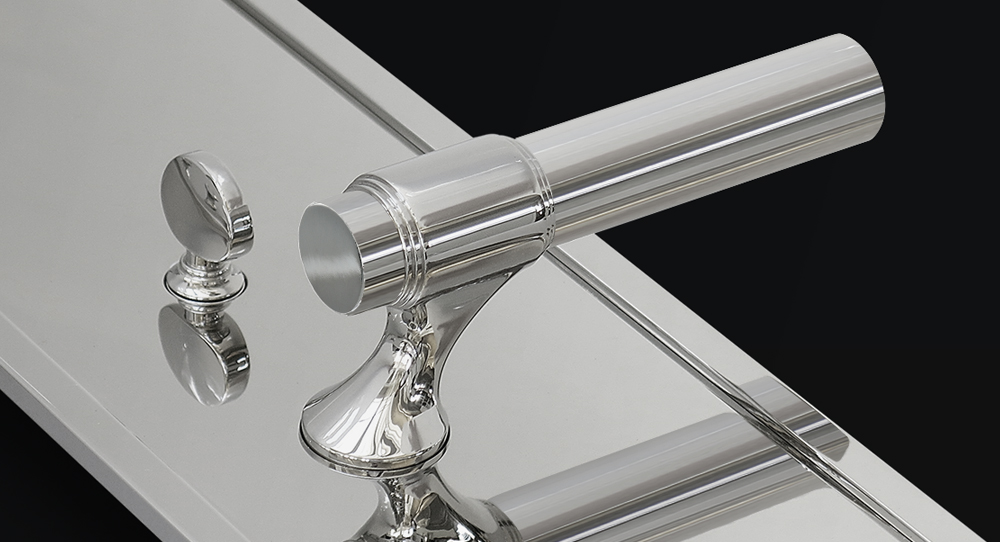 Early 20th Century Design
The HT6136 lever, an elegant offset lever design from the 1920's, is showcased by an oversized backplate with a stepped frame, all shown in polished nickel.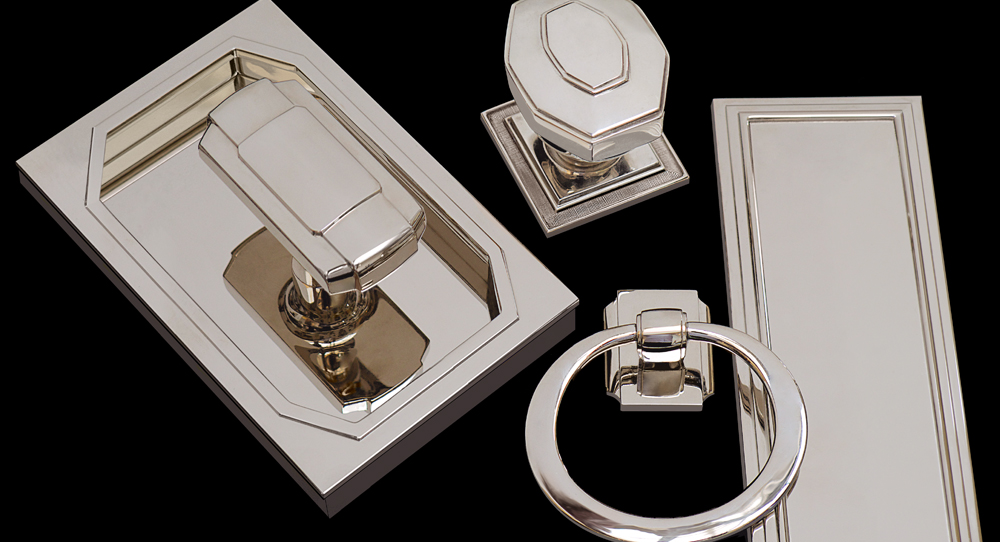 European Modern and English Deco Patterns
Unusual European and English Deco decorative details lend interest to this ensemble of period door fittings, including a rectangular fingerplate, a ring pull, and two knobs notable for unusual and elegant raised geometric motifs on their faces.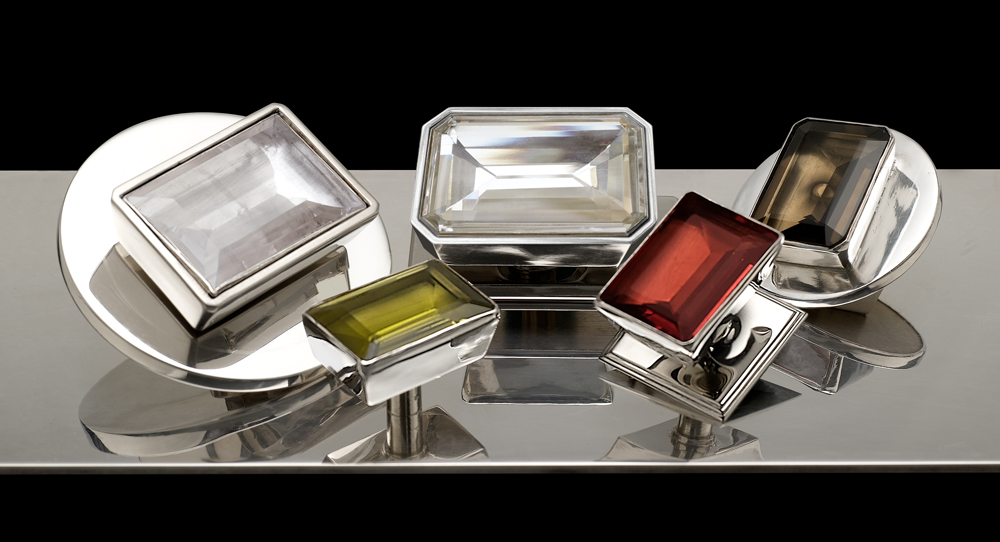 Rock Crystal Cabinet Hardware
H. Theophile's signature design - these made-to-order cabinet pulls feature natural rock crystal, hand cut in a variety of designs and set in a 925 sterling silver bezel. Crystals are available in a range of naturally-occurring colors.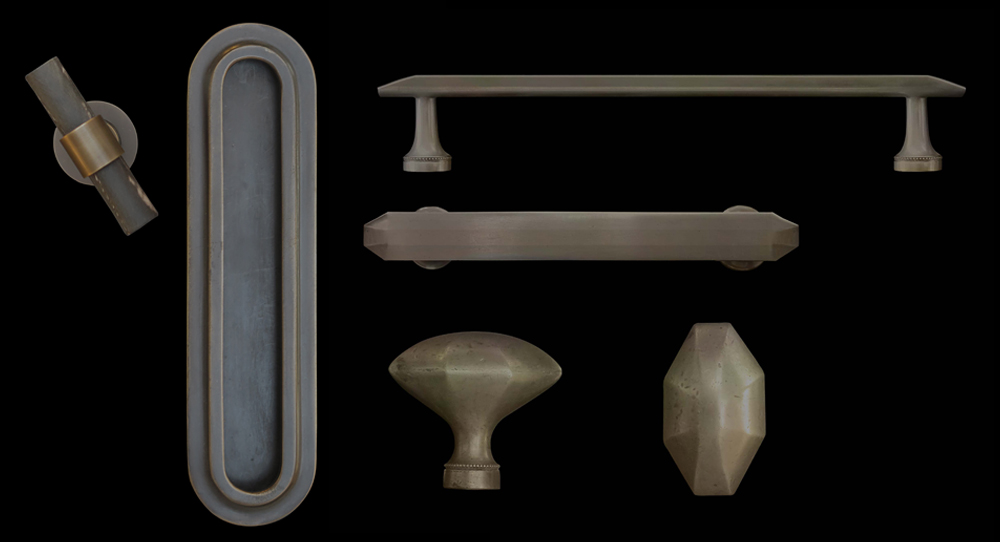 Historical and Eclectic Cabinet Pulls
This unusual ensemble of cabinet fittings include the HT9143b faceted oval pull (French, early 19th century) and a T-pull in natural horn (far left). A coordinating faceted English wire pull, and the HT9072 oval recessed pull with stepped detail - both based on 1920s designs - complete the grouping.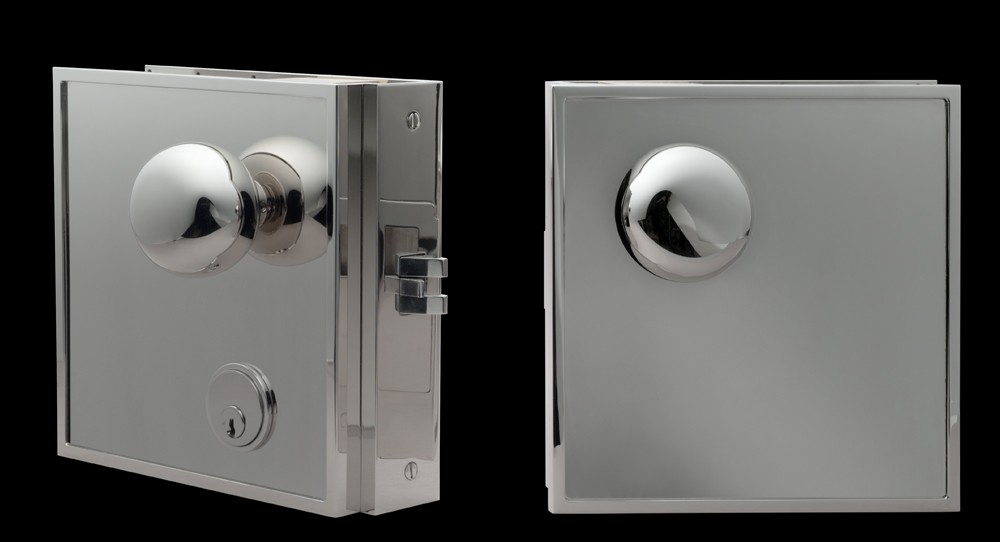 A pair of custom wrap-around door cuffs, with integral mechanisms and engineered for flush installation on rabbeted double doors, is shown. A perimeter frame and the simple form of the HT5300 knob complete the composition of this entry set produced for an important modern house in Chicago.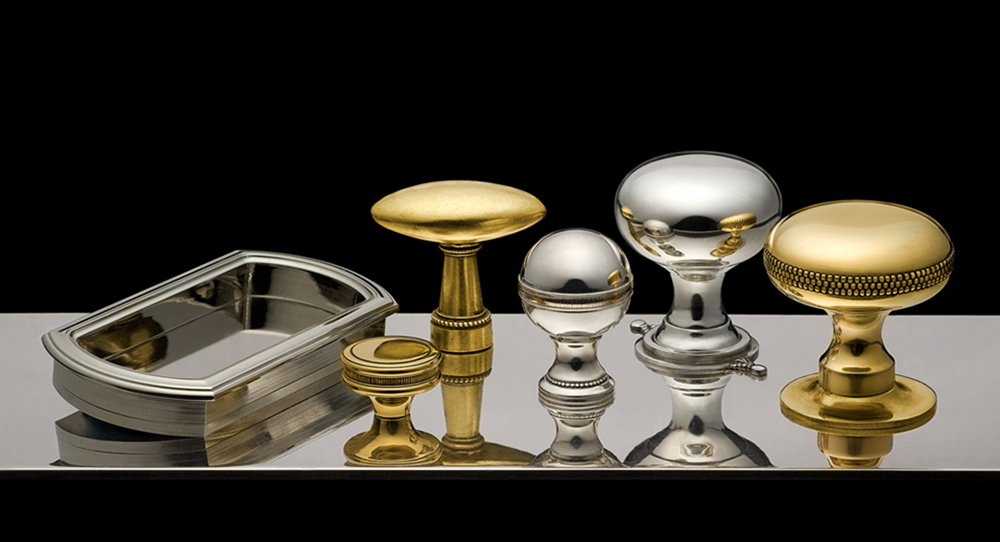 The New Georgians, a range of cabinet pulls and door hardware based on 18th century originals in our collection, capture both the proportions and meticulous detail of the originals.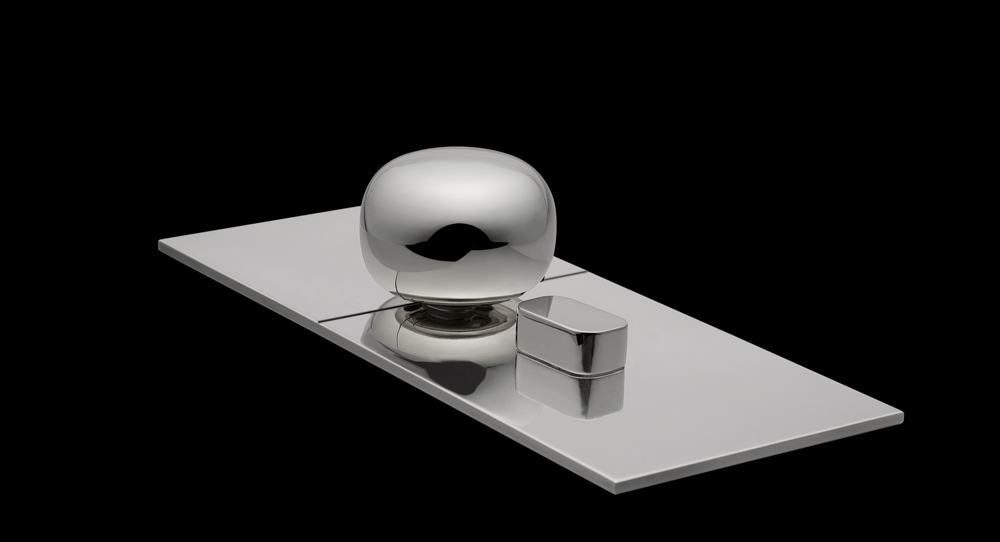 Minimalist geometric forms, perfectly executed in proportion and finish, approach fine art.H.Theophile's modern hardware collection includes interchangeable components such as the HT5300 knob, HT1606 thumb turn, and oversized backplate all in burnished nickel.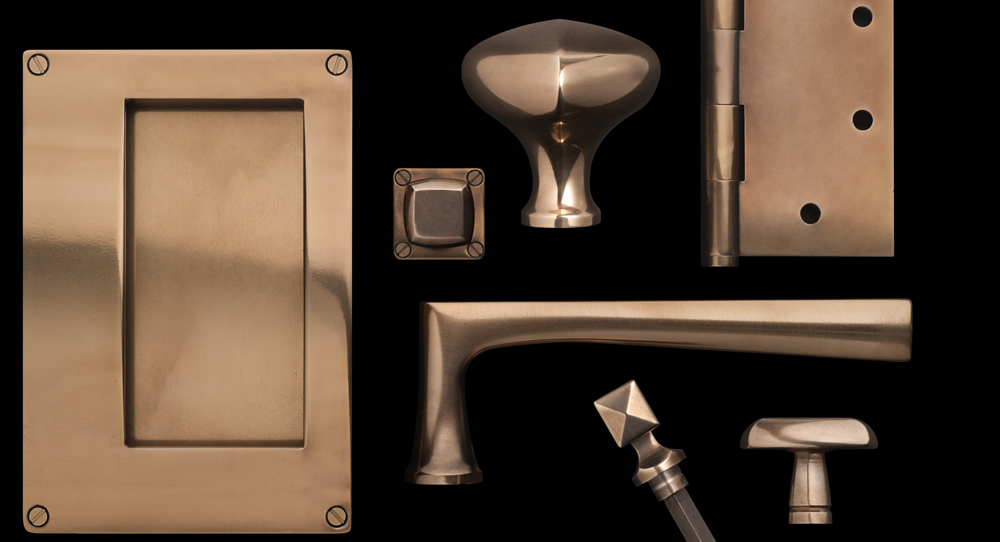 Machined from solid rose bronze, these handles, pulls, and hinges recall English hardware production from the 1930s both in finish and their mix of modern and traditional forms.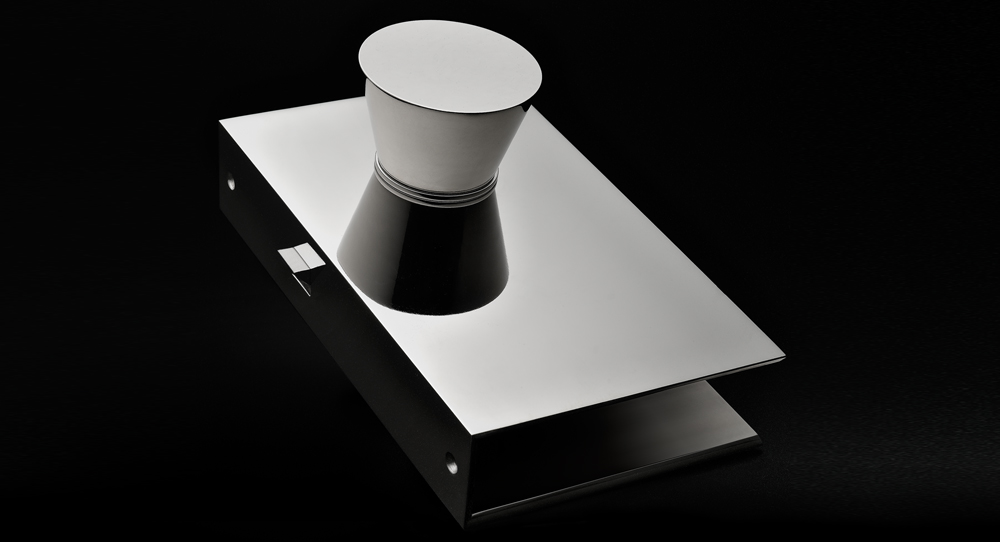 A new typology in luxury door hardware, H. Theophile's \"door cuff\" is engineered to wrap around the door integrating lock mechanisms, handles and escutcheons in one assembly. Customizable for all functions and sizes.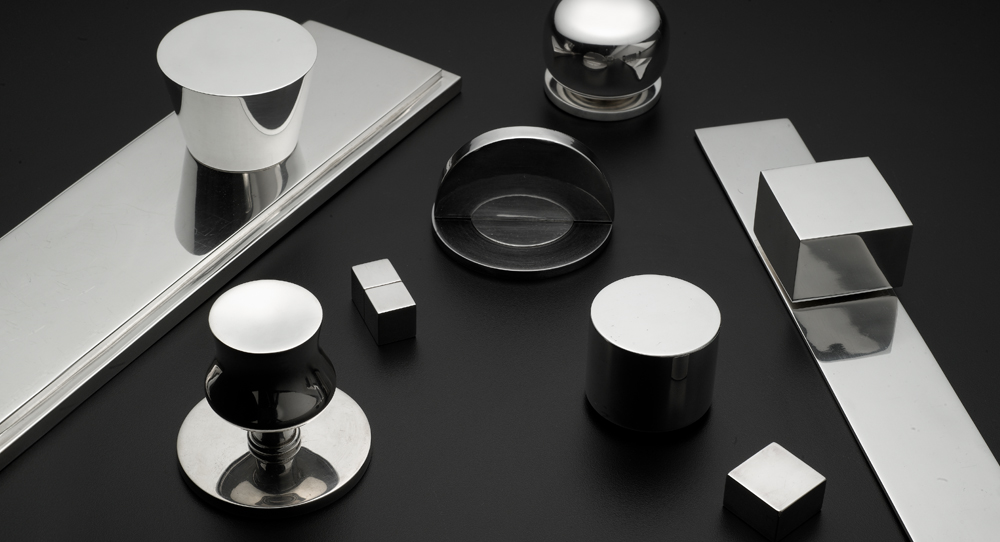 Simple and interchangeable forms characterize H. Theophile's "Architecture of Hardware", a unique range of minimalist trims.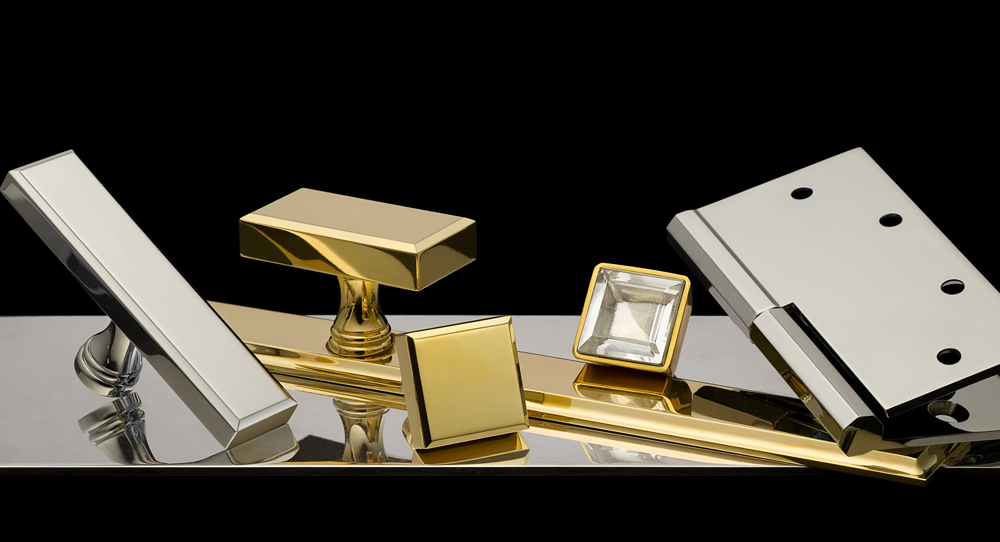 Precise and reflective, faceted details unite several variations of the HT9990 rectangular cabinet pull, the HT9994 rock crystal pull, and the HT0234 octagonal hinge.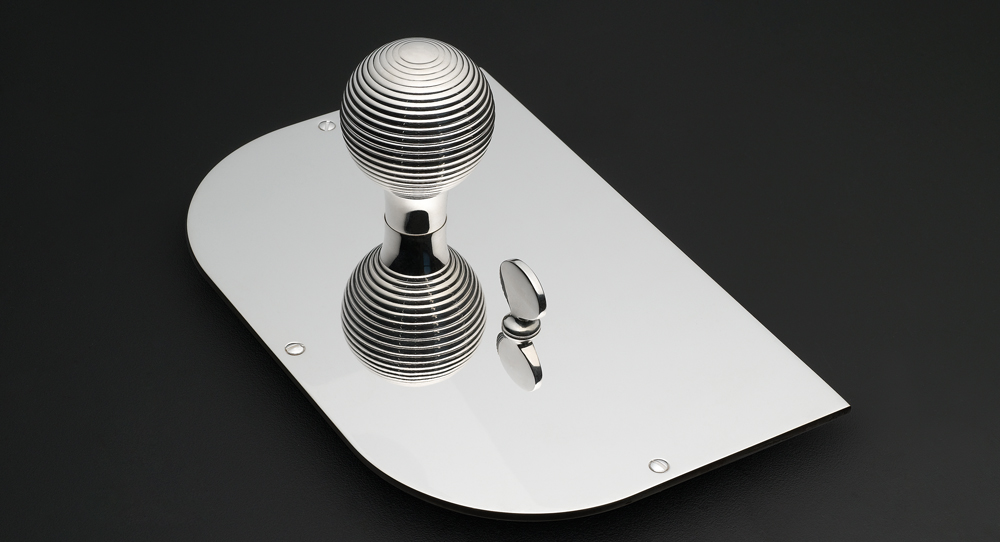 Refined historicism describes H. Theophile's rendition of a traditional beehive knob, which achievesmathematical precision through layering of machined and hand - chased bands.An oversized and radiused backplate ca. 1930 provides a reflective foil in silver - plated bronze.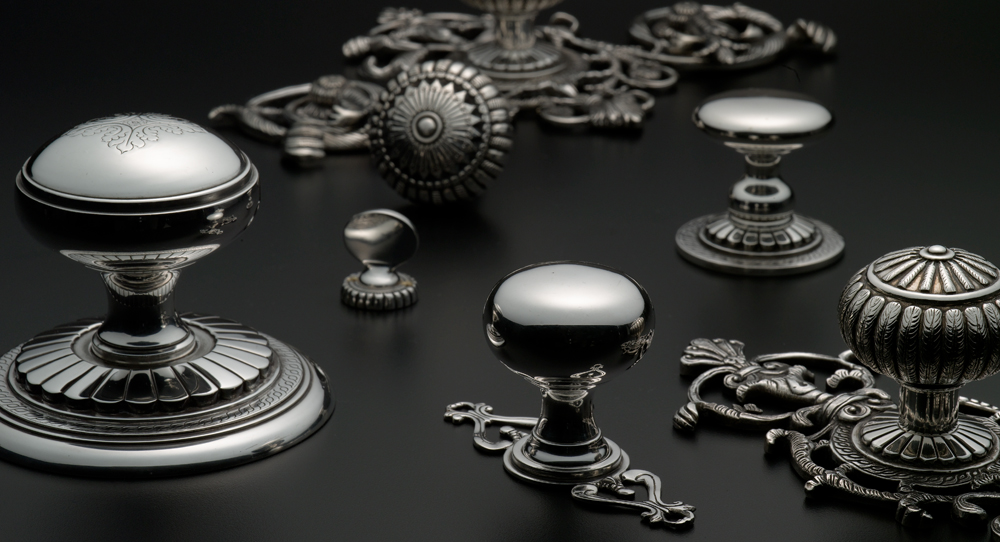 Period Antiques and Adaptations
H. Theophile's team of designers and engineers is skilled in the design of new hardware based on historical models as seen in this suite of new handles based on 18th century Robert Adam designs.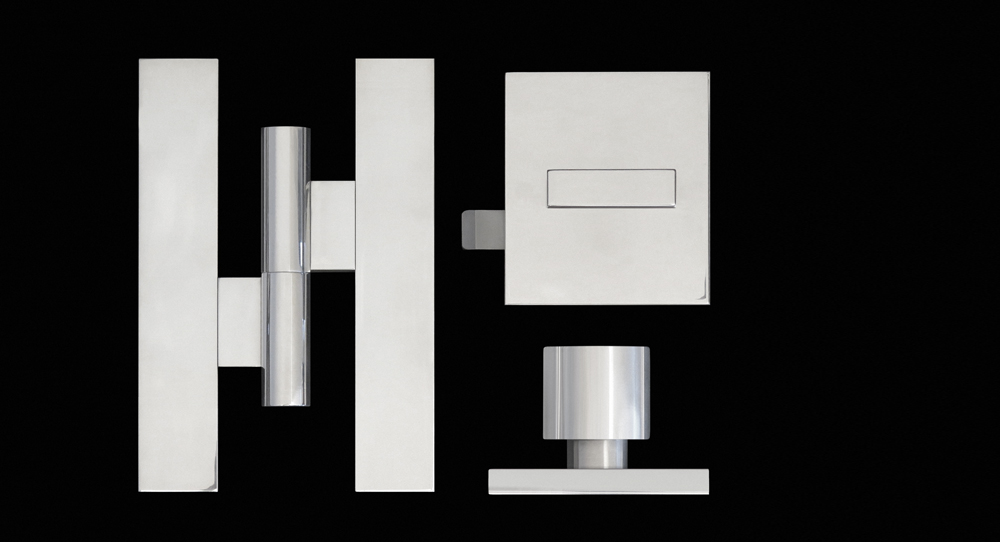 Engineered Custom Hardware
Engineered minimalist designs unique to H. Theophile include a new H-hinge and an auxiliary deadbolt with rectangular turn piece, both shown in polished silver. These install using fully-concealed fasteners.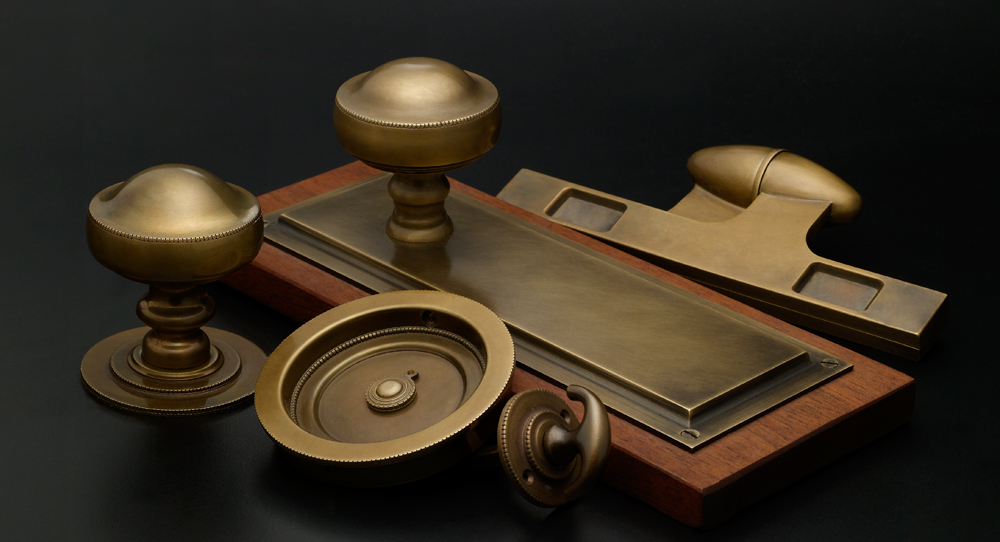 Finely beaded perimeters unite this suite of handles, backplates, hinges, and recessed pulls based on English designs and shown in antique burnished brass.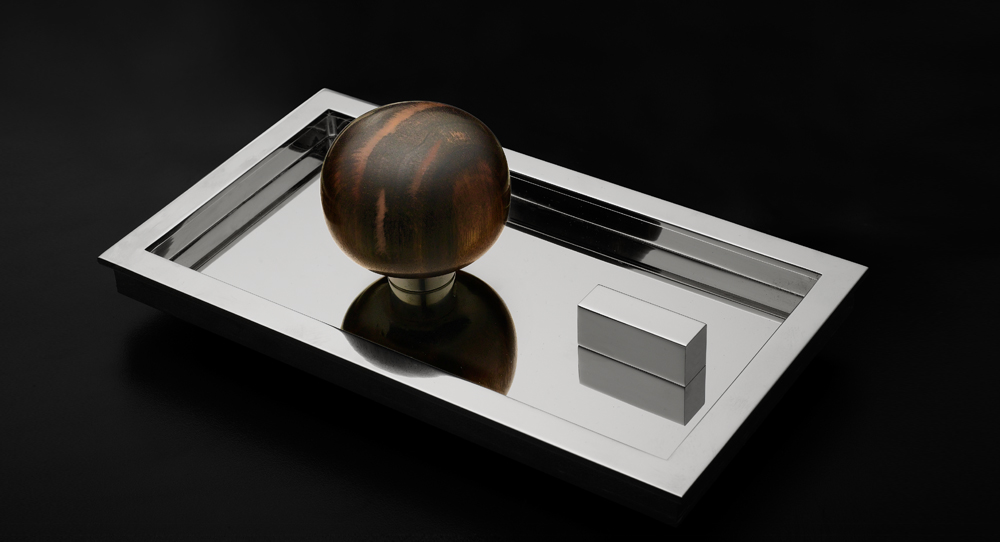 A Macassar ebony knob is juxtaposed with H. Theophile's HT9401 recessed pull with the HT1027 thumb turn in polished nickel.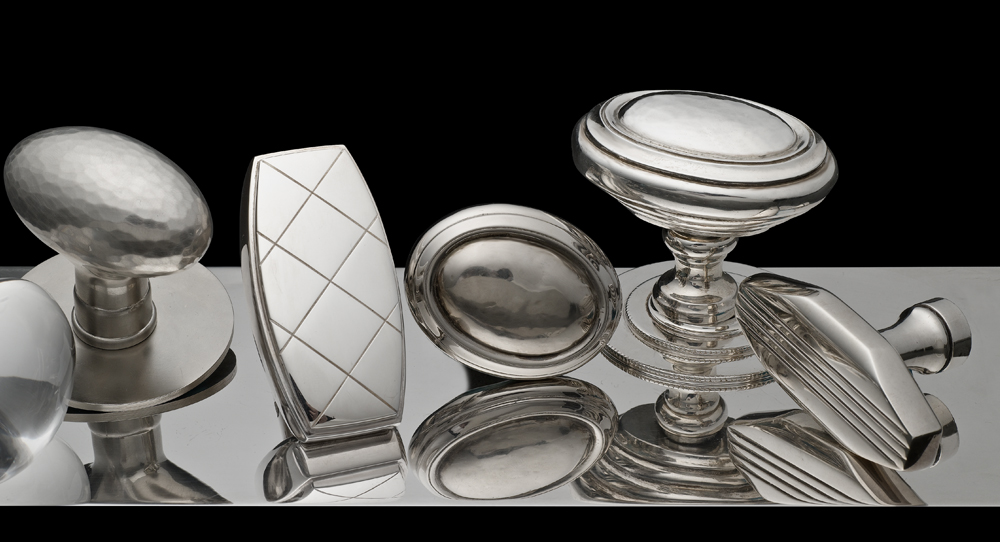 Selected oblong and oval designs from H. Theophile diverse collections include a stylized egg knob with hammering, an English oblong handle elegantly engraved with cross-hatching ca. 1930, and a stepping oval knob cast from on an 18th century French original.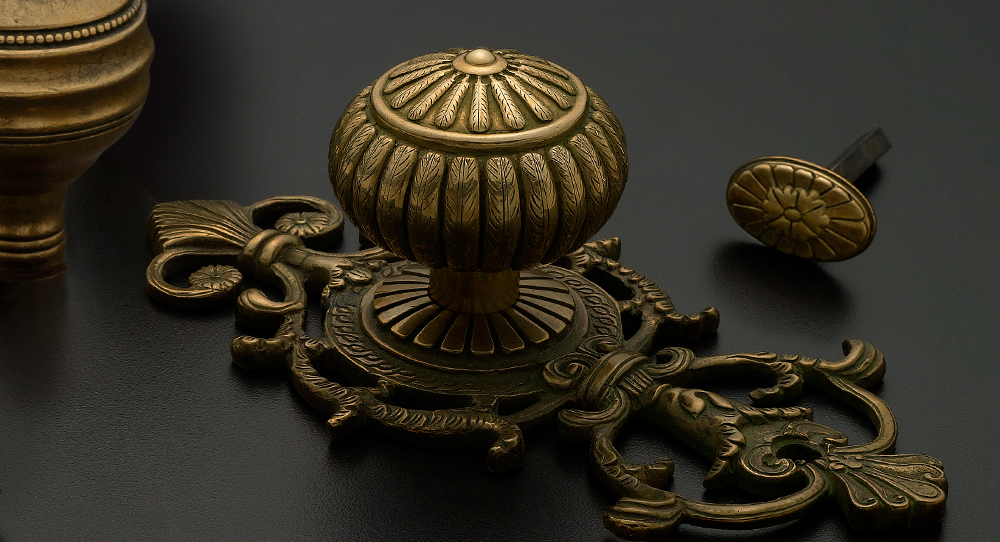 The integration of machining and artisanal handwork processes to achieve unique products is seen in this reproduction of an antique Adamesque knob, machined and then hand-chased to render delicate bird feathers.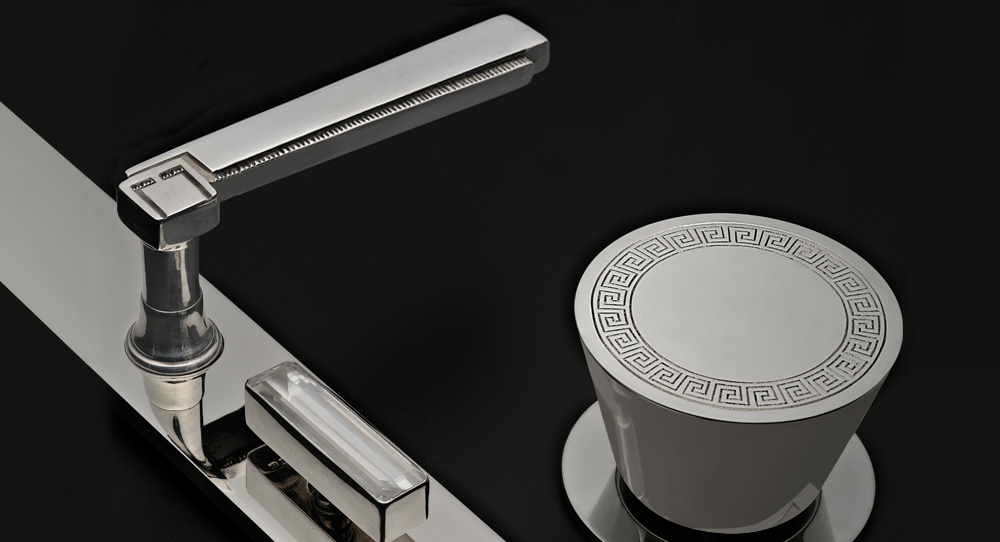 Neoclassical Door Hardware in the 20th Century
A rare Neoclassical lever design from the 1920s, this antique lever's geometric motifs are exquisitely rendered in this reproduction. Coordinating hardware components include the HT5403 "flare" knob engraved with a Greek key perimeter and a rock crystal thumbturn set in 925 Sterling Silver.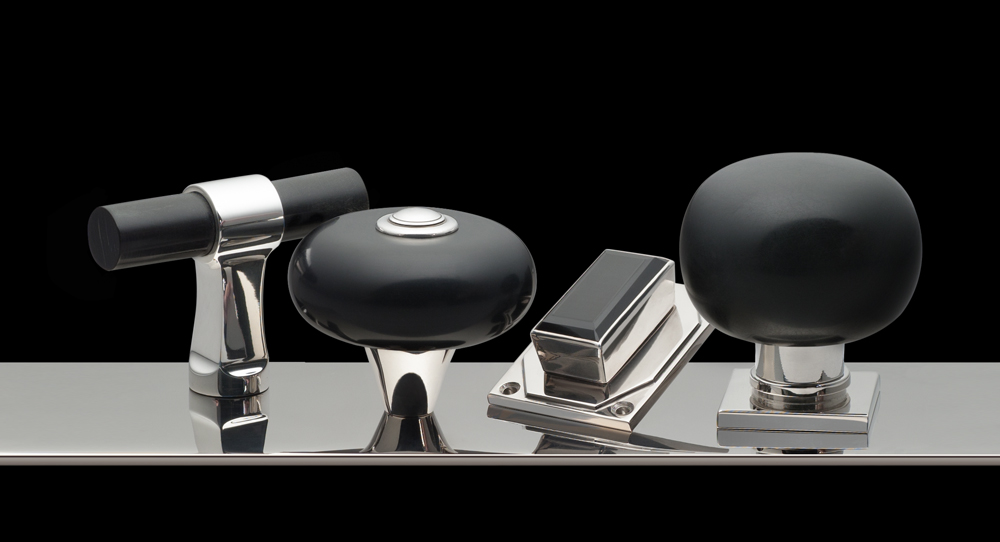 Exotic and Luxurious Materials
Horn, black topaz, ebony and black corian are juxtaposed in this array of cabinet handles based on European designs, finished in polished silver and polished nickel.